Energy
Flughafen Zürich AG provides the entire airport with a reliable and efficient supply of electricity, heating and cooling.
Strategic objectives
With its "Energy Strategy 2030" Flughafen Zürich AG is seeking to ensure a secure, economic and environmentally responsible energy supply for the whole airport in the future. The strategy aims to reduce primary energy consumption, smooth out peak demand and increase the airport's energy autonomy.
As over 90% of Flughafen Zürich AG's CO2 emissions stem from supplying heat and electricity, the sources of energy used are closely linked to climate protection.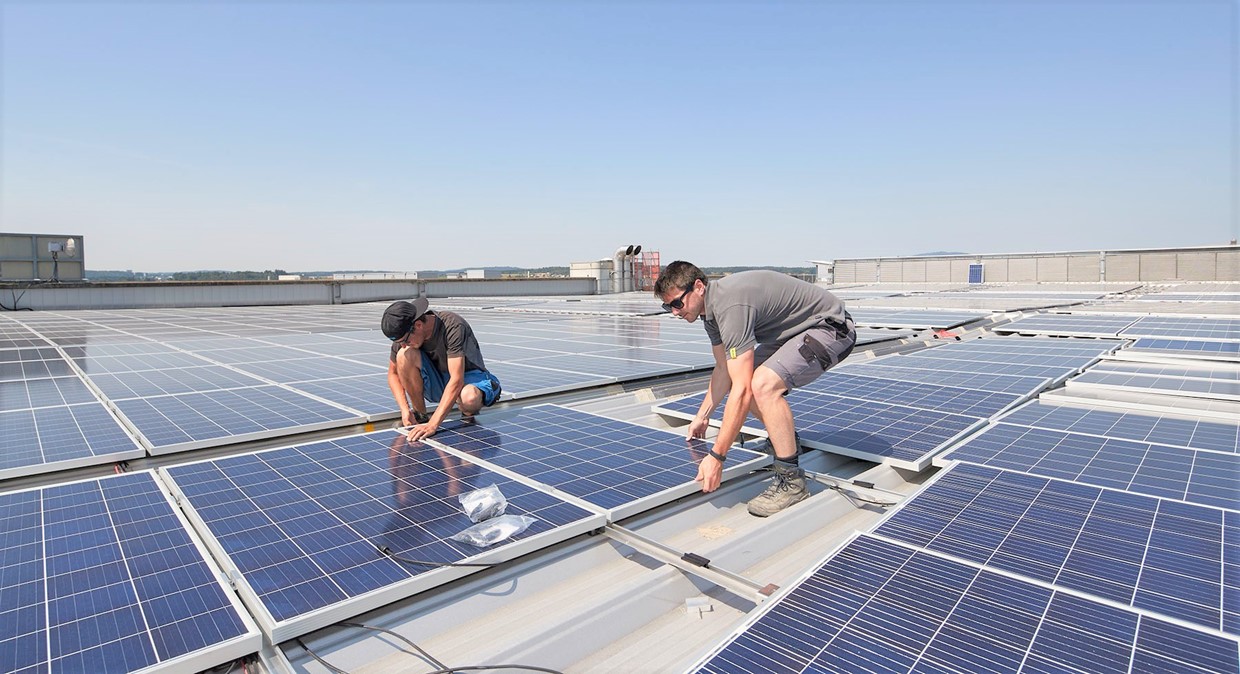 The addition of photovoltaic systems is in full swing.
ENERGY PRODUCTION
Flughafen Zürich AG uses a number of different technologies and sources of energy to provide reliable and efficient heating, air conditioning and electrical power. Using a combined heat and power generation system, the airport's own heating plant provides both electricity and heat, which is distributed over an extensive district heating network. The main fuel is natural gas, and a small amount of fuel oil is used. Three centres equipped with cooling units with an output of over 20 MW meet the majority of the airport's cooling needs. A high proportion of free cooling and the utilisation of waste heat recovery in some cases make these systems highly efficient. Shallow geothermal energy extracted with heat exchangers is utilised for heating and cooling some buildings.

PHOTOVOLTAIC ENERGY
The annual output of all photovoltaic systems was higher than ever in 2019.
In addition to generating electricity in its own heating plant, the percentage of electricity generated by photovoltaic systems at the airport is steadily increasing. Arrays are currently being installed on the new fire brigade building and on THE CIRCLE, with further projects also being planned.
THE CIRCLE
The new complex currently under construction and set to open in 2020 boasts exemplary energy efficiency and will be certified both to MINERGIE and LEED Platinum standards. 736 foundation piles are designed as "energy piles", similar to the ones under Dock E at the airport since 2002. This will enable most of the energy demand for heating and cooling to be met by these geothermal structures. Thanks to the sophisticated heat recovery systems also incorporated in the building, only around a quarter of the energy required will need to be externally supplied. Finally, photovoltaic arrays that produce solar power are installed on the roofs, although these can only meet a fraction of the demand.
SITUATION IN 2019
Heat demand rose by 5% in the year under review to 98,844 MWh. The main reason for this was the cold month of May, when temperatures were well below the multi-year average. On the other hand, the electricity requirement remained on the same level as in the previous year at 162,240 MWh.
Expressed in primary energy, overall demand came to 497,595 MWh, which is virtually the same as the previous year's level. Primary energy also includes the energy necessary for generation and transmission which is required before an energy vector can be used as final energy (electricity, heating).
Spent primary energy for electricity and heat.
LARGE-SCALE CONSUMERS AGREEMENT
As a large-scale consumer, Flughafen Zürich AG has signed an agreement with the Building Department of the Canton of Zurich. This obliges the company to make average annual efficiency improvements of 2% until 2030, measured on the basis of the number of user units and the heated area of the airport. The target for specific energy consumption was also met in the reporting period.
Annual increase in efficiency
The annual increase in efficiency must amount to at least 2% by 2030.
ENERGY EFFICIENCY MEASURES
Flughafen Zürich AG constantly strives to reduce its energy demand and improve the efficiency of its buildings and systems. As well as its building renovation programme, such measures also include optimising existing systems. For instance, replacing conventional lighting with LED lights is well underway. Another example is an audit of HVAC systems which resulted in a list of over 50 systems offering scope for using less energy without compromising on comfort levels. Many other measures contribute to reducing energy consumption and improving efficiency in minor ways.