Annual Report of Flughafen Zürich AG
2020
Highlights 2020
Aircraft refuelled with "Sustainable Aviation Fuel" (SAF) at @jetaviation and @NesteGlobal SAF will be made available for fuelling business jets departing from ZRH during #WEF20. #SAF cutt.ly/9rb9UXl

— Zurich Airport (@zrh_airport) Jan 20, 2020
A Swiss first: aircraft refuelled for the first time with sustainable aviation fuel
In January 2020, a business jet was refuelled at Zurich Airport for the first time with a blend of conventional kerosene and sustainable aviation fuel. This joint project between Jet Aviation, Flughafen Zürich AG and Finnish renewable kerosene producer Neste is the first of its kind in Switzerland. Neste MY Renewable Jet Fuel reduces greenhouse gas emissions by up to 80% compared with fossil kerosene.
New 'tunnel cinema' on Switzerland's busiest cableway
Since February, the new 'tunnel cinema' in the Skymetro, which connects the Airside Center with Dock E at Zurich Airport, has been celebrating the beauty of Switzerland as it bids welcome and farewell to international travellers. The tunnel cinema is extremely popular with passengers and enjoys a high degree of recognition. With new technology and modified content, it will also last long into the future.
Zurich Airport maintains Switzerland's air links to the world
In spring 2020, the pandemic brought air traffic to an almost complete standstill. Nevertheless, Zurich Airport always remained open. Even in these challenging times, it therefore fulfilled its mandate to provide a basic service and maintained Switzerland's air links to the world so that repatriation, air freight and ambulance flights could continue to operate, along with a few passenger flights. Flughafen Zürich AG proved to be extremely resilient during these challenging times and is weathering this unprecedented crisis under its own steam.
Negotiations with airlines on flight operations charges brought to a successful close
The negotiations with airport users on flight operations charges draw to a close in July 2020 with the parties in agreement: the current charges period will be extended, and the charges will remain unchanged, with some minor adjustments to the charge structure. The agreement provides a reliable planning framework for all those concerned and is the result of a strong partnership between the airport users at Zurich Airport.
News on website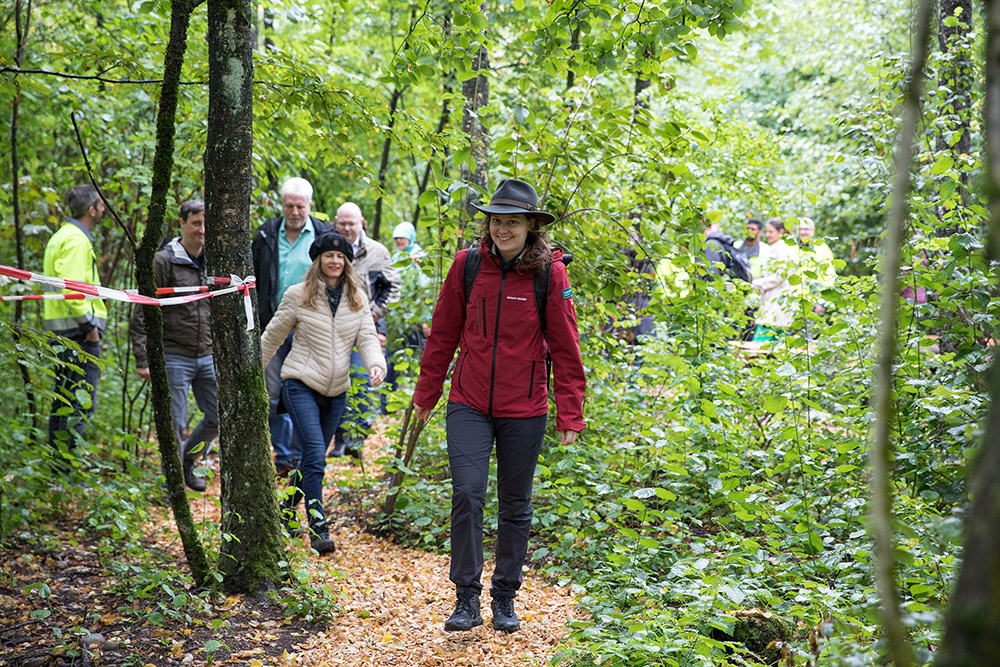 Opening of the Airport Park and new visitor attractions
Zurich Airport is one of the most popular destinations in the Canton of Zurich. Whether on a viewing terrace, in a spotter area, on a tour or with a guide, visitors are invited to observe the diverse and emotive flight operations close up and take a look behind the scenes of the exciting airport processes. The autumn saw the opening of the 80,000 sqm Airport Park, where Zurich Airport rangers are now offering a unique kind of guided tour.
More information
Welcome aboard our official Twitter feed!

— Noida International Airport (@NIAirport) Dez 28, 2020
Flughafen Zürich AG signs concession arrangement for airport in India
At the end of November 2019, Flughafen Zürich AG was selected as the preferred bidder for the new Noida International Airport in India. In October 2020, the concession arrangement was signed locally with the authority in the state of Uttar Pradesh. The concession for the construction and operation of this new airport 80 kilometres south of Delhi in the Greater Noida Area is for a term of forty years.
Opening of the Circle
November saw the official opening of the Circle. Switzerland's largest construction site has been transformed into the new city district at Zurich Airport. Two hotels with a congress centre, numerous shops and restaurants, headquarters for international companies and premises for medical services are increasingly turning the airport into a complete urban centre. Flughafen Zürich AG became the first tenant when it moved into its new headquarters in the Circle at the end of May 2020. Spanning five floors, the "Homebase" provides a modern working environment in a premium location for around 600 employees. By the end of 2020, around 8% of the available space had been let.
"We are looking back on a challenging 2020. Due to the coronavirus pandemic, we suffered an historic downturn in traffic, with the situation impacting on all our areas of business. Thanks to our forward-looking management, we are able to weather this unprecedented crisis under our own steam."

Stephan Widrig, CHIEF EXECUTIVE OFFICER
Go to the Address to Shareholders
KEY FINANCIAL DATA
Revenue (in CHF)
624.0

–48.4%
million
Ebitda (in CHF)
196.0
million

EBITDA margin

31.4%
CONSOLIDATED RESULT (in CHF)
–69.1
million
Return on invested
capital (ROIC)
–1.1
%
previous year

8.8%
Traffic figures
freight (in tonnes)
291,163
RESPONSIBILITY
Sustainable
Circle
Switzerland's largest sustainable building complex, the Circle, was taken into operation in 2020. The new building was constructed in accordance with the requirements of building labels LEED® PLATINUM and MINERGIE and uses almost no fossil fuels.