ENVIRONMENTAL RESPONSIBILITY
Flughafen Zürich AG bears the considerable responsibility for operating Zurich Airport in a sustainable and environmentally responsible way. It will continue to maintain this commitment in future.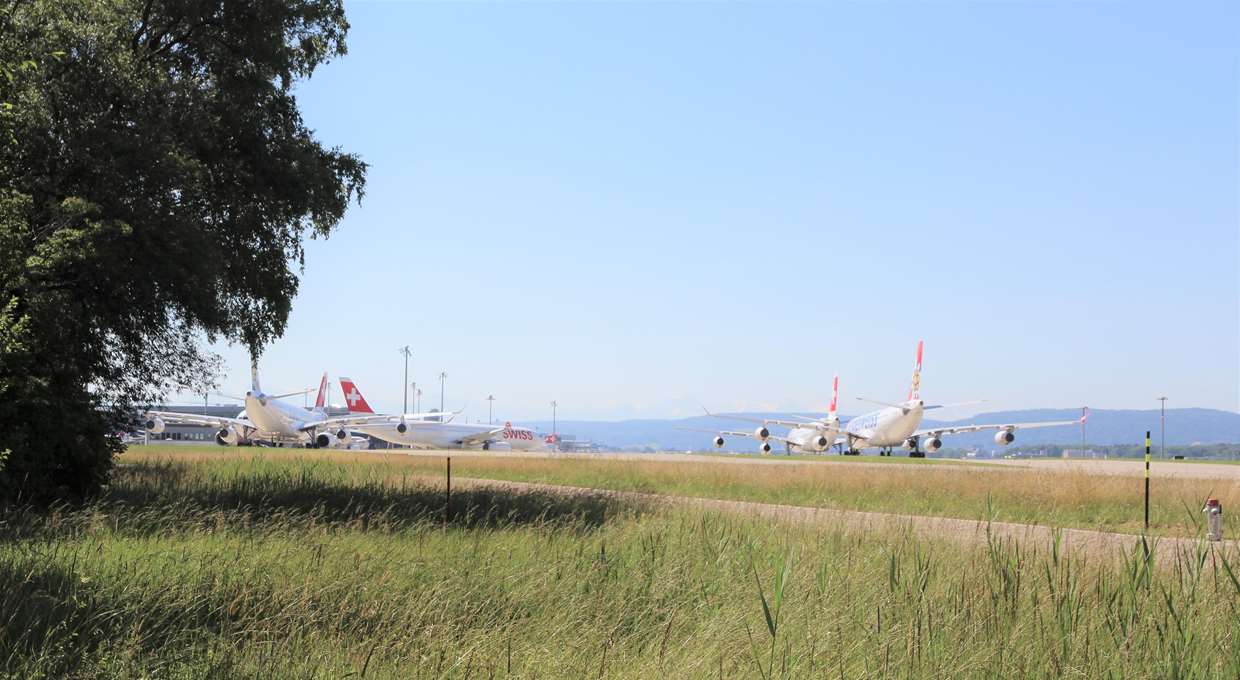 View looking south from Klotener Ried in the summer of 2020.
Environmental policy and reduction targets
The current pandemic has not in any way fundamentally changed Flughafen Zürich AG's commitment to environmental protection and to the ambitious targets it has set itself. Protecting the climate remains one of the most urgent challenges facing the company. The company's environmental policy sets out further focal issues of aircraft noise, air quality, energy consumption and the preservation of natural habitats for animals and plants. In the areas of climate protection and energy Flughafen Zürich AG has also set itself reduction and efficiency improvement targets.
Environmental management system
The company uses an environmental management system certified to international standard ISO 14001:2015 to record and control its environmentally relevant processes. This management system has been continuously developed since it was established in 2001 and has helped the company steadily reduce the airport's impact on the environment.

Dialogue
Flughafen Zürich AG maintains an ongoing dialogue with a wide range of stakeholders. Providing transparent information about the company's activities and their impact on the environment is as important as receiving feedback. As well as the public at large, its stakeholders include in particular local residents, administrative authorities, associations and interest groups, industry partners and technical bodies at a national and international level.
Flughafen Zürich AG uses a variety of channels for communicating its commitment to the environment. These include, for instance, providing detailed information on its website, or its interactive environmental exhibition which was on display at the Bülach Museum during the reporting year, or its range of environmentally themed guided tours.

Scope
Environmental reporting relates generally to the overall Zurich Airport complex and encompasses all the activities of Flughafen Zürich AG and its partners within the airport perimeter as defined in the Sectoral Aviation Infrastructure Plan (SAIP) for Zurich Airport. However, the targets cited in the individual sections relate solely to areas that Flughafen Zürich AG is able to influence directly.