Aircraft noise
The impact of flight operations on the locality is a key concern for Flughafen Zürich AG. Our Noise Management department analyses and provides transparent reports on the noise situation.
Noise monitoring
Flughafen Zürich AG operates a network of 14 noise monitoring stations at fixed locations near departure and arrival routes. The data collected are published monthly in a noise bulletin.
Owing to the sharp drop in the number of flight movements, in 2020 much less noise was recorded at all monitoring stations than the previous year, both during the day and at night. The distribution of flight movements across the various take-off and approach routes has a significant impact on changes to noise exposure.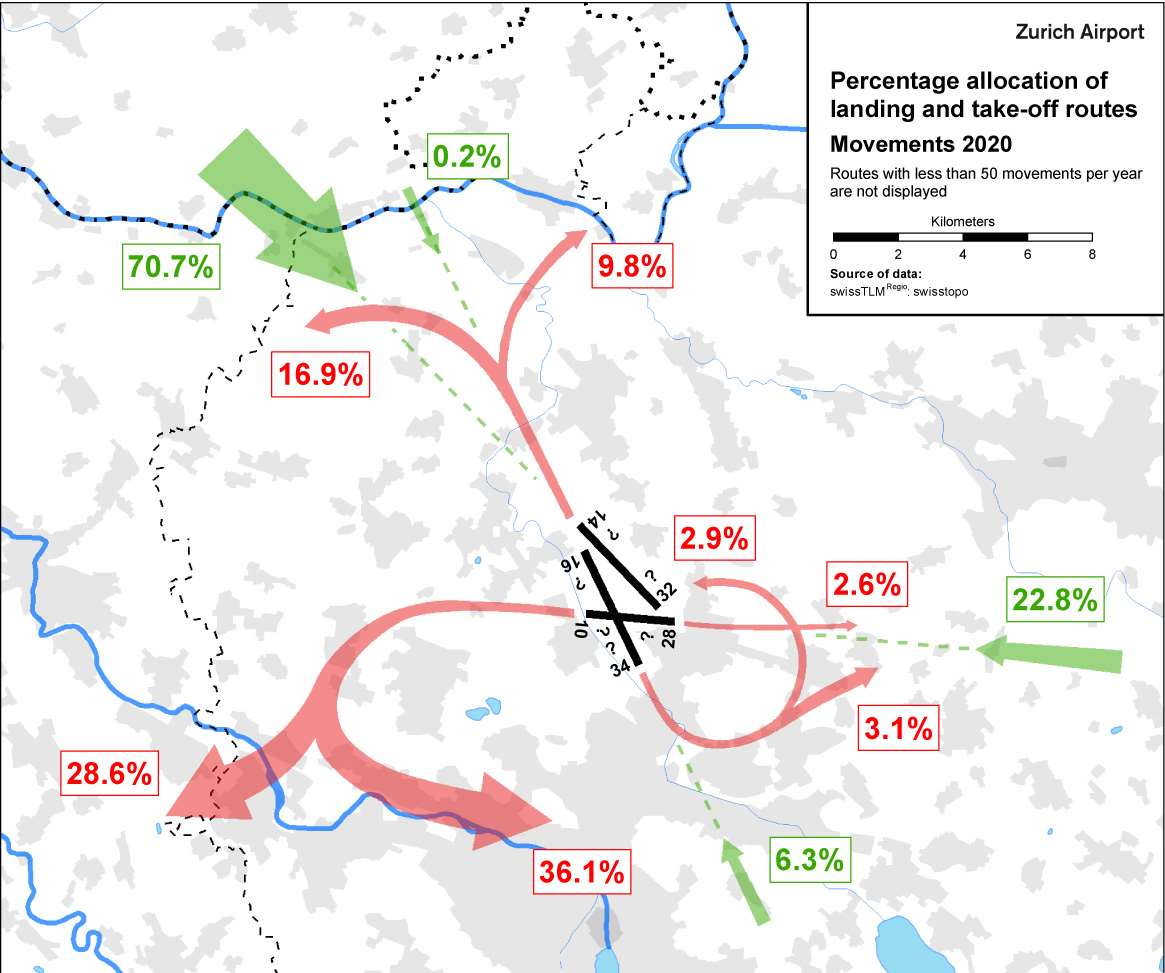 Usage of landing and take-off routes in 2020 (in % of total traffic). Routes with fewer than 50 flight movements per year are not shown.
NIGHT FLIGHTS AND SPECIAL AUTHORISATIONS
Residents often perceive night-time flights to be particularly disturbing. In 2020, night flights (between 10 p.m. and 6 a.m.) accounted for only 3.0% (2019: 4.8%) of flight movements. Special authorisations were issued for a total of 69 flights (2019: 272) during the night-time curfew period (11.30 p.m. to 6 a.m.). Such night flights are only authorised when there are justifiable grounds (see noise statistics).
FLIGHT PATH MONITORING
The Noise Management department monitors all departures from Zurich Airport for adherence to the prescribed flight paths. These are mandatory during daytime up to an altitude of 5,000 feet above sea level and at night up to flight level 80 (approximately 8,000 feet). In 2020, 83 (2019: 136) investigations were triggered and 18 (2019: 29) interviews with chief pilots were conducted. As in the previous year, the most frequent reason for deviations from the prescribed flight paths were specific instructions from air traffic control.
NOISE CHARGES
All jet aircraft are assigned to one of five noise categories, each of which has a different charge rate for take-off and landing. This gives airlines a financial incentive to operate the quietest possible aircraft on their Zurich routes. In addition, the rates for night-time flights vary according to noise category and the specific take-off or landing time. In 2020, at around 43% (2019: 53%), noise category 4 accounted for the highest percentage of flights during the night (10 p.m. to 6 a.m.).
Higher noise charges for the shoulder periods and at night came into force at Zurich Airport in mid-September 2019. These are intended to ensure efficient – and consequently more punctual – handling of air traffic during the evening and so reduce the number of flights after 11 p.m.

USE OF THE NOISE PROTECTION HANGAR
In 2020, a total of 406 aircraft engine tests (2019: 487) were performed in the noise protection hangar. The majority (64%) of engine tests carried out at night were for short-haul and medium-haul aircraft. Most aircraft engine tests for long-haul aircraft such as the A343, A333 and B777 and all other aircraft types were performed during the day.
The permitted noise level was exceeded twice in 2020. This is significantly less than the 25 instances per year permitted by the operating regulations. According to figures provided by the aircraft maintenance companies, 943 idle tests were performed on the apron and on the stands. 556 of these were carried out during the day between the hours of 6 a.m. and 10 p.m., and 387 were run at night between 10 p.m. and 6 a.m.
Communication with local residents
Communicating with people in neighbouring communities is important to Flughafen Zürich AG. Local residents affected by aircraft noise can call or e-mail Flughafen Zürich AG directly with questions or complaints and staff from the Noise Management department will respond to specific questions. As in the year before, landings on runway 34 constituted the most frequent cause for complaint in 2020. Far fewer complaints and queries were received than in 2019.