Global climate
It remains Flughafen Zürich AG's goal to cut CO2 emissions to net zero by 2050. To enable it to reach this goal, the company defined a reduction roadmap and entered into new partnerships during the year under review.
CO2 REDUCTION ROADMAP
Flughafen Zürich AG aims to cut its CO2 emissions to net zero by 2050. The company remains committed to this goal and took further definite steps towards achieving it during the year under review.
The specification of a reduction roadmap and associated measures in September is a key strategic move that creates planning certainty for the entire company. Starting from approximately 27,500 tonnes of CO2 at present, the goal is to gradually reduce emissions to zero. The priorities have been defined as follows:
1. Reduce consumption at the user end
2. Improve efficiency at the provider end
3. Stop using fossil fuels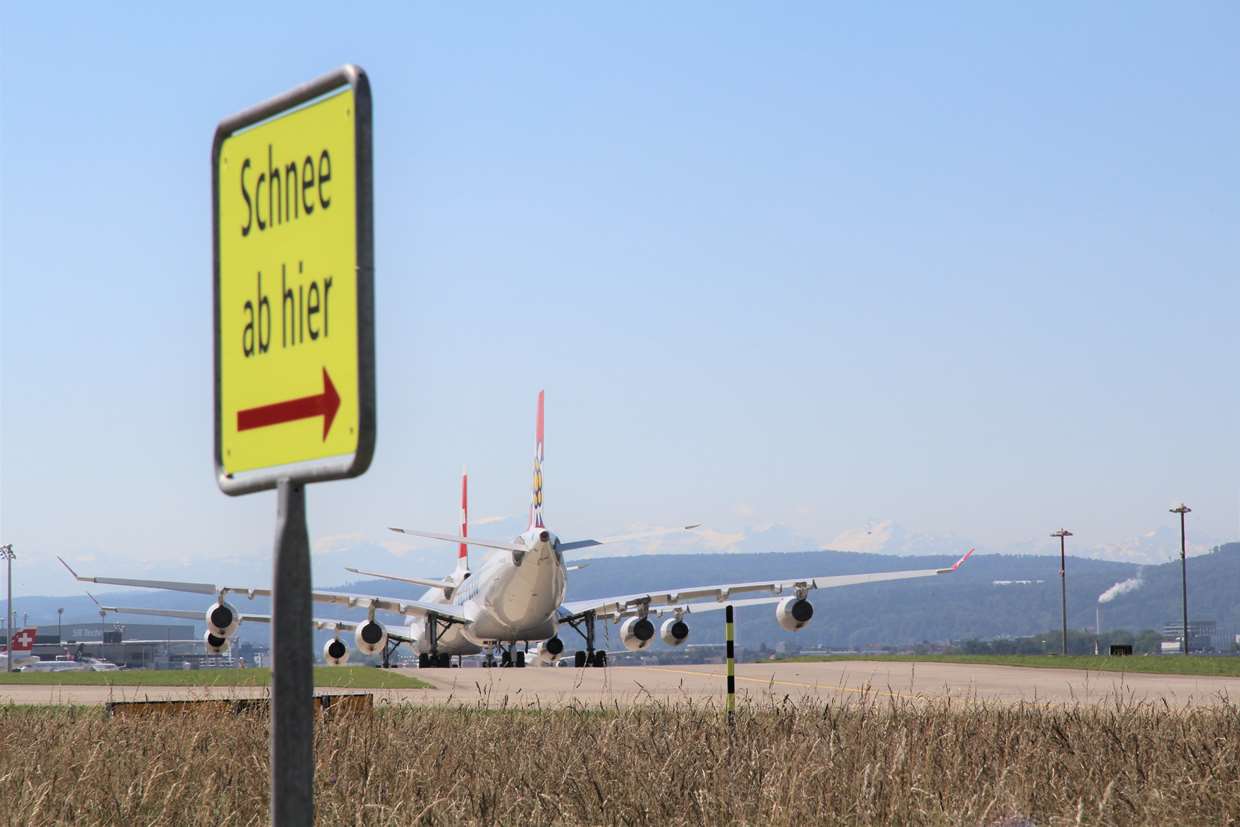 sustainable AVIATION FUELS
In January 2020, an aircraft was refuelled at Zurich Airport with sustainable aviation fuel (SAF) for the very first time. In collaboration with ground handling firm Jet Aviation and producer Neste, Flughafen Zürich AG arranged to import a limited quantity of SAF. SAF was made available to business jets arriving in Zurich for the World Economic Forum.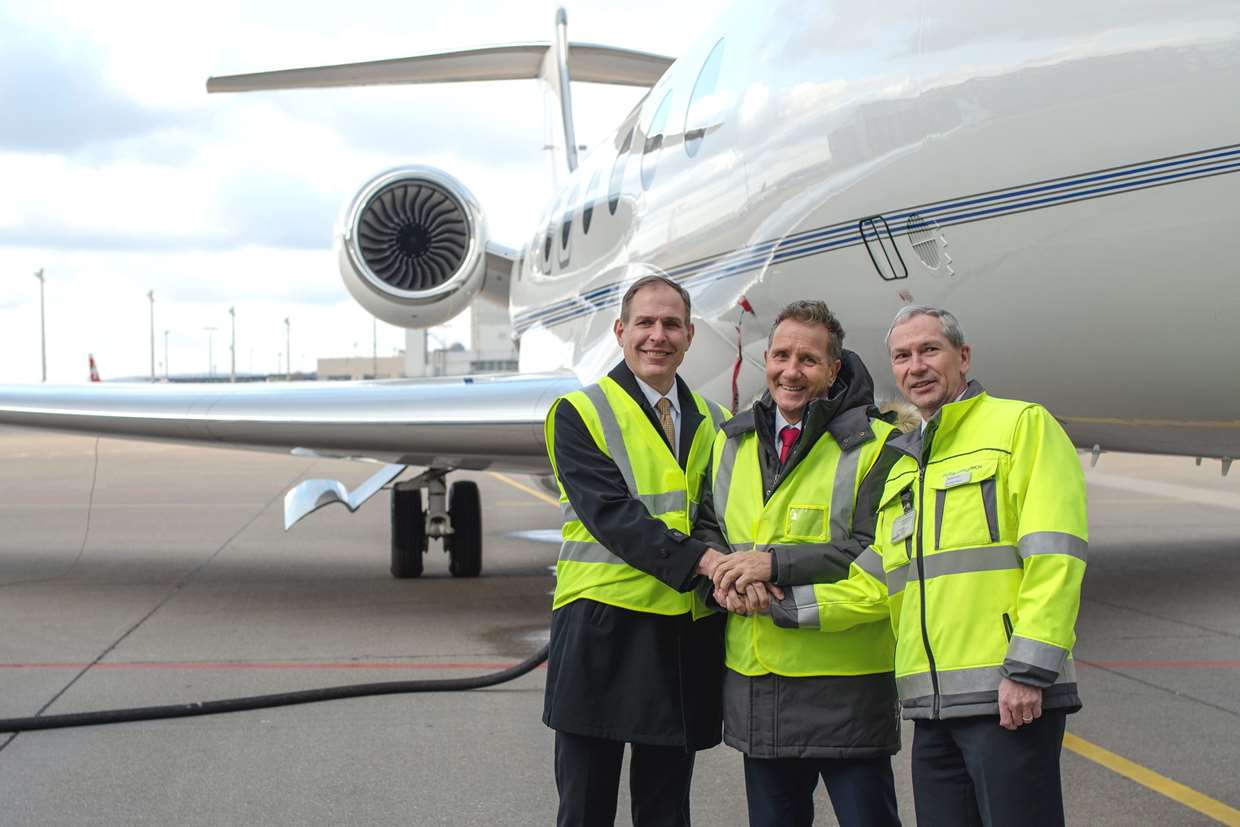 David Paddock (President Jet Aviation), Thorsten Lange (Executive Vice President Neste) and Emanuel Fleuti (Head of Environmental Protection Flughafen Zürich AG) watch the first aircraft being refuelled with sustainable fuel in Zurich.
KEY PARTNERSHIPS
In May of the year under review, Flughafen Zürich AG signed a cooperation agreement with high-tech company Synhelion SA. Synhelion is engaged in research into the production at scale of synthetic fuel from air and sunlight, i.e. creating virtually carbon-neutral fuel. Flughafen Zürich AG has undertaken to purchase this fuel at cost price from a Swiss test facility for use in its vehicles and machines. The fuel is expected to be available from 2023 onwards.
In November of the year under review, Flughafen Zürich AG also joined the Swiss Confederation's "Exemplary Energy and Climate" initiative. 15 organisations have signed up to the initiative and will lead the way in showing how the Confederation's "Energy Strategy 2050" can be implemented.
CO2 SOURCES
Each year Flughafen Zürich AG records CO2 emissions in an annual inventory. Of the known greenhouse gases emitted at Zurich Airport, carbon dioxide (CO2) is by far the most significant.
The climate gas inventory was further refined during the reporting year with the addition of climate-impacting refrigerants for cooling units, which are recorded as CO2 equivalents, along with CO2 emissions from de-icing agents and waste incineration. However, emissions from these new sources are insignificant so the overall picture remains unchanged.
In accordance with the Greenhouse Gas Protocol (GHG protocol), the CO2 sources are allocated to different spheres of influence known as "scopes". Scope 1 comprises sources within the company. These mainly include heating systems, in-house electricity generation and Flughafen Zürich AG's vehicle fleet. Scope 2 relates to CO2 emissions resulting from electricity generated off-site. Finally, scope 3 covers all other airport-related sources. These include all ground handling systems, feeder traffic, and the actual aircraft.
AIRPORT CARBON ACCREDITATION
Flughafen Zürich AG's climate protection programme has been accredited by Airport Carbon Accreditation (ACA) since 2010. The ACA scheme was launched in 2009 as an initiative of ACI Europe, the association of European airports. The accreditation recognises airports all over the world that first draw up an inventory of their CO2 emissions and then take steps to reduce them. Flughafen Zürich AG has been accredited at ACA's third level ever since it joined the scheme. This means that the company is continually reducing its own CO2 emissions and is helping its partners lower their emissions too.
Situation in 2020
As a consequence of the unprecedented situation created by the pandemic, CO2 emissions in Scopes 2 and 3 were lower than in 2019. In the year under review, 1,212 tonnes were emitted in scope 2 (–26%) and 1,517,055 tonnes in scope 3 (–64%).
On the other hand, CO2 emissions in Scope 1 were almost on a par with the previous year at 26,284 tonnes (+0.3% compared with 2019). This was due to demand for heating, which accounts for by far the largest share of these emissions in Scope 1, and which remained unchanged from 2019. Some buildings recorded a sharp fall as a result of the pandemic, while others saw their heating demand rise.
CO2 emissions of Flughafen Zürich AG since 1997 by scope.